BUILDING ENVELOPE STRATEGIC REVIEW
Modern homes are built in compliance with the applicable Building Code.  The Building Code represents a minimum standard relative to the components, subsystems  and method used to construct the building.  Builders endeavor to create more efficient structures by incorporating new products and methods directed at perceived structural deficiencies. This approach tends to be haphazard and the performance results are not generally cost effective.
The more effective approach is a comprehensive review of the entire building system.  An in-depth review of the building env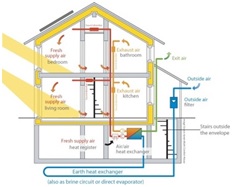 elope using critical techniques to identify any of the three methods of thermal energy  transfer.
Conduction – traveling through a material,
Convection – transferring of heat from one place to another by the movement of fluid (air usually),
Radiation – Heating/Cooling by radiant energy. For example: energy gained from the sun during the day and lost to space at night.
How do the components/products utilized in the build fit together, do they create an effective  thermal barrier?  Are the methods consistent with healthy living?  Are the movement of humidity and energy through the envelope controlled effectively?.  Windows are one example of a build element that requires critical review  The "right" window is chosen on the basis of function, performance and value. In many cases, the all-important thermal performance of the window frame is lost to exotic coatings and claimed thermal enhancement of glazing.  This process is repeated to varying degrees throughout all the building materials and methods.
We produce a listed review of the elements and what to expect of the performance.  We are reviewing the build design to find the best technology for your building, not just the ones that meet building code.  Also, the review is set to encourage a cost benefit of each suggested critical element.  Then the owner can decide if the expense is worthwhile.
This review will provide you with a clear understanding of what each building element is delivering based on energy cost savings and longevity, and therefore operating costs of your home.  This discussion happens at the time when changes are possible and cheaply made to the design.